Top women's underwear brands: what makes La Coochie different?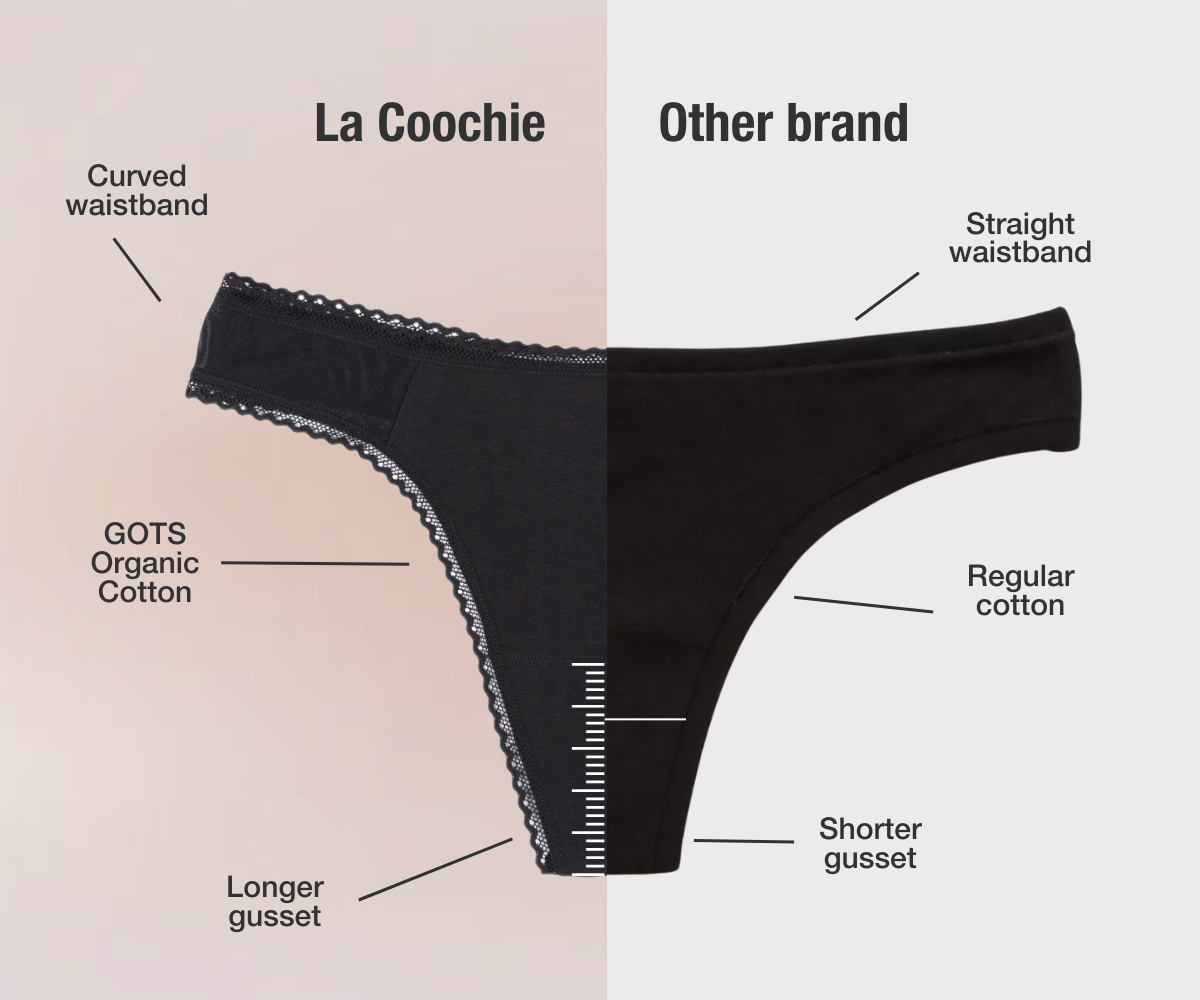 We're not naive, you have a wide range of choices when it comes to shopping for women's underwear, which is why we went above and beyond to make sure we could provide a product that's insanely comfortable for every day, sexy & body-safe. So…what REALLY makes our organic cotton underwear styles different from all the rest?
The Gusset
This is one of our biggest differentiators. The gusset (which is often known as that "little underwear pocket") is actually an important part of any woman's underwear. This piece of fabric is meant to protect your vagina by absorbing away sweat, ultimately helping your vagina breathe (and avoid smell). It also reinforces the garment for longer-lasting wear and more movement.
Our underwear gussets are definitely longer than other brands and wider than most. This allows for more room to fit all kinds of vagina sizes, different amounts of discharge, and to protect more of the area. 
Our gussets are also sewn down. Believe it or not, these "pockets" aren't meant to be pockets, and we wanted to prevent it from rolling back, curling, crunching and overall leaving you with an uncomfortable fit and look. It's actually more expensive to sew a gusset down in production, so most brands opt-out. We want your everyday underwear to be the highest quality and provide body safety, so we sew each gusset down for your comfort and protection. 

Organic Cotton
We know you've heard it before, but there's a reason we chose to create our underwear with GOTS certified organic cotton fabric. Not only is it chemical and pesticide free, keeping your vagina healthy & happy, but it's also environmentally friendly and sustainable. Because organic cotton is grown without pesticides, it's a much safer production process for the environment and wildlife, not to mention safer for the delicate area around your vagina.
Organic cotton underwear is also some of the most breathable - it helps absorb moisture so you don't run into as many yeast infections or annoying sweaty smelly moments. 
Underwear Fit - Flattering Only 
As we mentioned before, we do our cotton underwear fittings on women of many sizes to ensure a flattering look. We want to create confidence, which is why our underwear styles are a little different. The leg is high cut for an elongated look, we offer mid and high rise styles to contour the waist, and we offer feminine detail like lace trim and mesh panels to add a little "sexy" to your every day. 
Curve Waistband
A majority of underwear style have a straighter waistline, which can lead to muffin top or an unflattering look. Our styles have a curved waistband to pull higher on the sides to accommodate your body shape, giving you a contoured, flattering & comfortable look. You'll see this really stand out on our mid rise styles!

Female Founded
We're not some old man in Ohio creating underwear for his "ideal woman". We're female-founded and create underwear for the REAL woman. Organic cotton underwear is non-toxic, and one of the safest underwear options out there, but our founder had trouble finding cotton underwear that was sexy with a modern fit. So - she set out to do it herself. Every organic cotton underwear style we create is tested and fit on women of all shapes and sizes to ensure the fit is not only flattering and insanely comfortable but offers the most protection and safety for your vagina. 
Let's be honest, coochies aren't one size fits all, and your underwear should reflect that. 
TLDR:
+ We chose non-toxic organic cotton fabric to create our underwear to keep your vagina healthy and safe
+ Our gussets are longer than average to help protect and fit all kinds of vaginas
+ Our gussets are sewn down for extra protection and comfort 
+ We're female-founded and ensure our fittings are done on women of ALL shapes and sizes
Experience the La Coochie differences! 
Shop organic cotton underwear now.