Real Talk: How Often Should We Buy New Underwear
Have you sat and thought about the last time you bought new underwear? If it's been a while, maybe some months, over a year (or years) in some cases, you're not alone. And because there are so many contradicting claims, we decided to lay down the law and listen to the experts. 
Listen, (almost) everyone is guilty of keeping undies that have a little wear and tear to them, but beyond that could be excessive. The truth is there's no definitive 'yes' or 'no' answer to "Is it time to ditch this thong?". If the elastic starts to give up, it's absolutely time to let go and make room in your lingerie drawer for new ones.
Let's be clear, there's no medical evidence that states wearing old underwear is necessarily a bad thing. It's not even considered gross, really, if you're keeping them in good shape and washing them often. When a TikTok video went viral earlier this year making the bold claim that your underwear should be replaced every six to nine months, a lot of people called bullshit. One of those people was Dr. Jen Gunter, author of The Vagina Bible: The Vulva and the Vagina: Separating the Myth from the Medicine.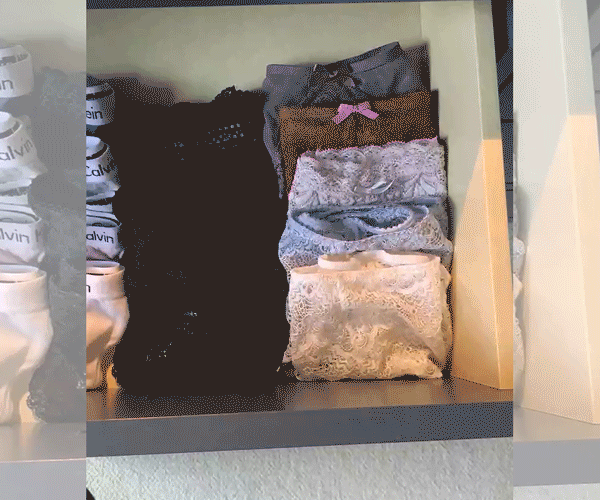 Gunter says that when people say we have to do "special" things to our underwear, it's really an extension of purity culture. You know, the misogynistic ideals that vaginas should smell a certain way? Yeah, all that nonsense. In other words, nothing mysterious happens to your underwear that automatically makes them unsafe to wear, especially if you're washing and taking care of them. Plain and simple.


So when is it time to stock up?
5 scenarios where it could be time to stock up on new (and non-toxic) underwear.
Snags:
Maybe you have super long nails, maybe you wear a ton of jewelry, or maybe your underwear takes it upon itself to get all raveled up in your washer/dryer—in either case, snagging can happen. When it becomes a bit too much, buy some new ones.
Period Stains:
Menstrual stains are so normal and common. But if you're wincing at the sight of a new stain that's made an appearance, just replace 'em. P.S. this continues to happen for nearly all of us, so you're not alone in finding those stains every month.
Stretched Out:
This is especially common in undies that have been thrown in the dryer instead of air-drying them. The dryer heat breaks down the spandex or elastane that's blended into the fabric, which ultimately shortens its lifespan. Cotton's also known to naturally stretch out, so La Coochie undies are made with 5% spandex to prevent that.
Made with synthetic or non-organic fabrics:
These use a ton of harsh chemicals that could mess with your vaginal health, pH balance, or penetrate up your v-area. No thank you.
Uncomfortable:
Your underwear preference could change over time and maybe it's time for a change. Whether their fit isn't as flattering as you once found it to be or they're just flat-out uncomfortable – both valid reasons to swap them out.
If your undies really are on their last leg or it's time for a refresh, we have plenty of options to add to your drawer. Check them out now.