Why the Women's Boxer is the game-changing style of 2023
If you haven't already seen the viral TikToks, the high rise boxer has taken over as one of the most practical and comfortable underwear types of the year. This organic cotton style is becoming a fast, eco-friendly underwear favorite due to its breathability, coverage, comfort & anti-chafing qualities. 
A sustainable boxer designed just for women:
This is truly where the high rise boxer shines. It's the little details that have made this style the best women's boxer choice on social media right now: 
- The design is "vagina-friendly", offering a "trendy V look" that houses a longer than average gusset to provide extra safety and security while providing a tight, but not too tight, flattering fit. 
- The boxer waistband has a barely-there small elastic and is designed with a snug fit to keep things secure without ever pinching and helps you avoid muffin top. 
- The non-toxic lace trim along the leg adds a feminine look making it a stylish boxer choice (and looks adorable under a long tee)
- A perfect length leg with a stretchy & light fabric to help sweating or chafing ALL day long
- If you're tall or looking for some modesty under a skirt, the boxer is a safe choice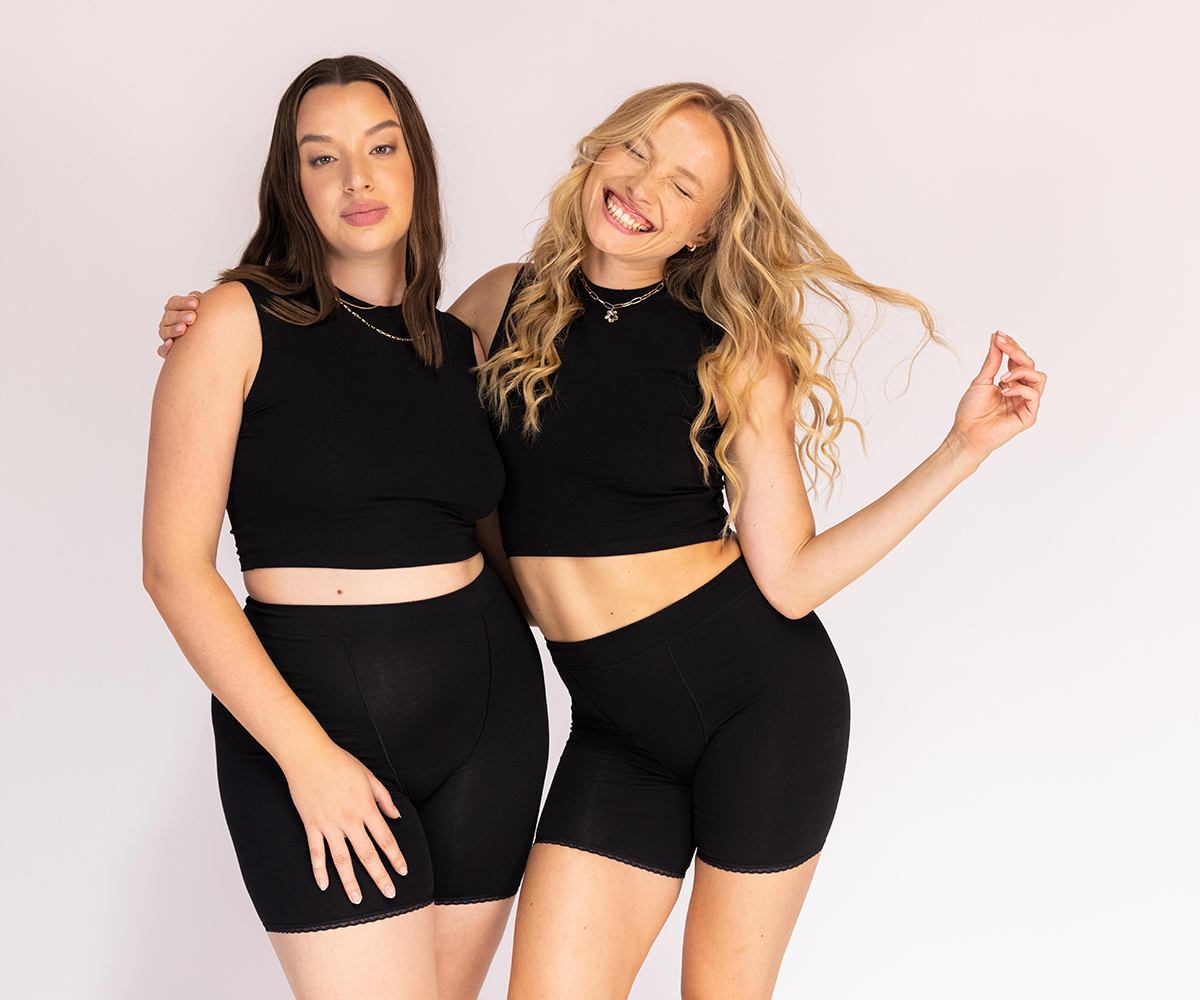 Anti Chafing & Ultra-Breathable
Some of the best underwear does more than just look cute. Organic cotton underwear is incredibly breathable and absorbs moisture from the vagina to keep things cool and smell-free. Because of this, it's one of the best choices for an anti-chafing boxer - the leg length is long enough to protect your thighs, but because it doesn't trap sweat, things won't get hot, and friction won't be an issue.
A question we get often: "What if I have big thighs?" We tested this boxer on women of all sizes and made sure the fit was great for and protected all kinds of thighs. And if you try it and it's still not perfect, email us, and we'll help you with an exchange or return.
It's created with certified GOTS (aka non-toxic) organic cotton fabric:
A huge reason this boxer brief style is such a hit is it's ultra-light, insanely comfortable fabric makeup. Unlike conventional cotton, organic cotton is grown without the use of harmful pesticides and synthetic fertilizers, making it safer for the body AND the environment. The skin around the vagina is incredibly absorbent, so any fabrics near there can expose the area to harmful chemicals - which is why so many are skipping the cheaper Amazon boxers and choosing organic cotton boxers to keep their body safe. 
*Pro Tip* An organic cotton underwear style is great for avoiding or minimizing yeast infections or sweaty smelly situations. 


TLDR:
This organic cotton high rise boxer is…
+ Created with toxic-free organic cotton material that's free of harsh and harmful chemicals, keeping your vagina safe (and it's environmentally friendly)
+ It's the best choice for anti-chafing
+ It's perfect if you're looking for a little modesty under your skirt
+ It's an ultra-light and breathable underwear option to avoid yeast infections or sweat
+ It's a WOMEN'S boxer, so each detail is designed to flatter your body 
Ready to see what all the high rise boxer fuss is about? Shop yours here. 
See the reviews here.